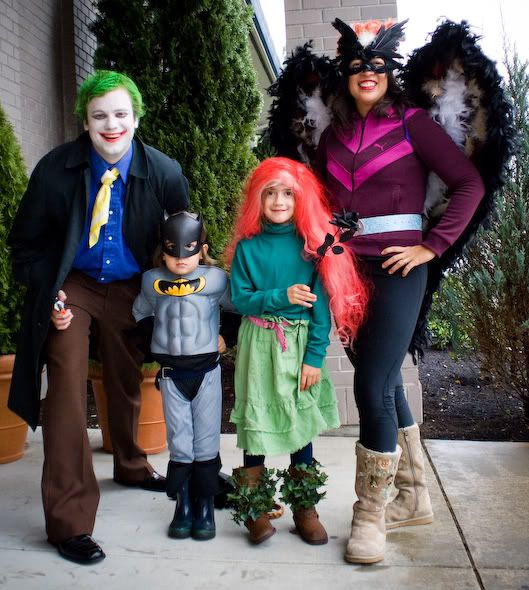 Meet Joker, Batman, Poison Ivy, and Hawk Girl!!
Joker says, "Why so SERIOUS!" hee, hee, hee, hee!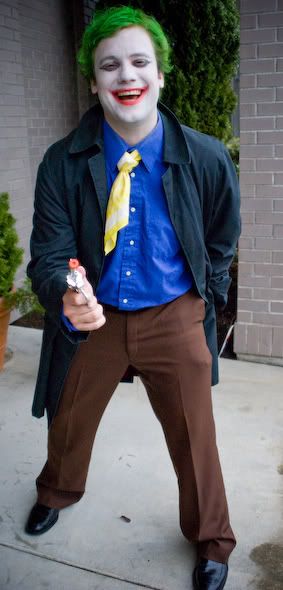 "Soon Gotham City will be Gotham PARK!", says Poison Ivy.
"Wish I could say the same Poison Ivy and Joker!" says Batman.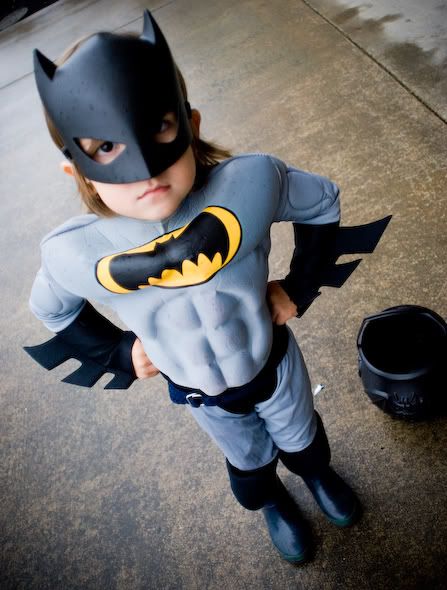 "Hawk Girl is ready to help Batman! Watch out Joker!" says Hawk Girl.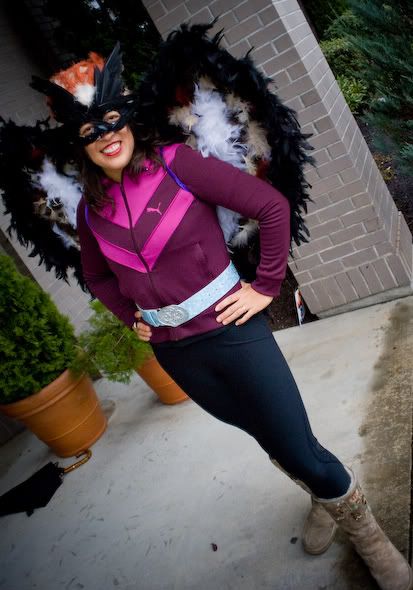 ________________________________________________________________
Before Batman and Hawk Girl head off to spoil the plans of Joker and Poison Ivy, we must tell you that Brian made all of Hawk Girl's costume!! Little did we know dad had such talents!
For the last three nights, Brian has (on his own w/o any of us knowing) been to JoAnn Fabrics and craft stores. And while I've been reading to the kids at night, we've all been curious to what dad is thinking!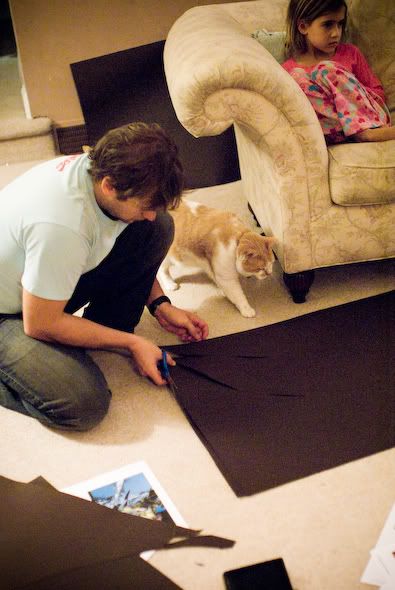 Stage 1 with no template, tracing or anything!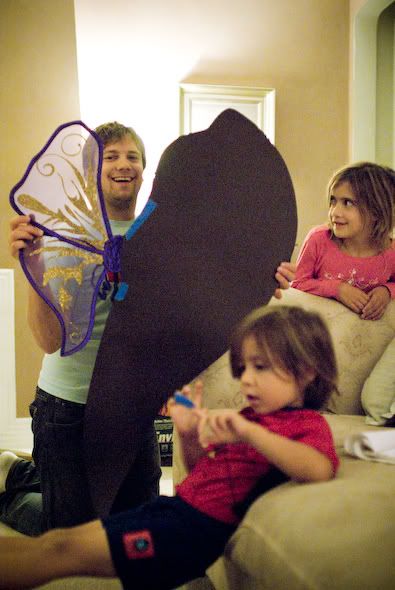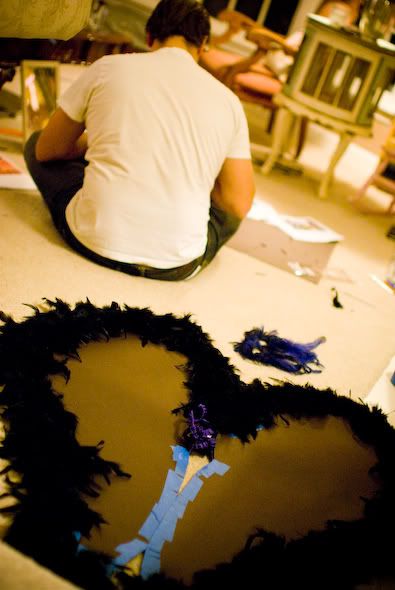 Then he plugs in the hot glue gun like nobody's business and glues this white mask to an old ski cap. But that is only the beginning!
Watch the master artist work! Brian blew us all away!!! Who freaking knew Brian was this talented at costume design!!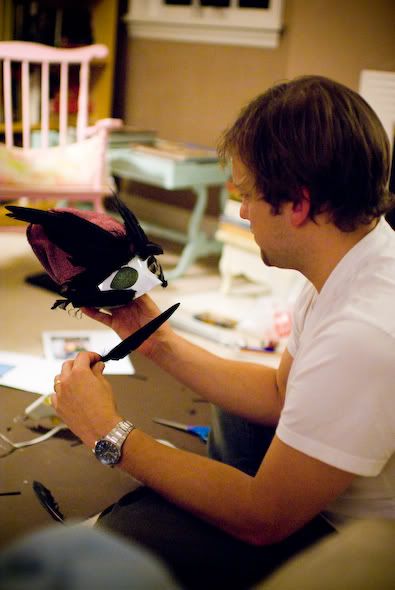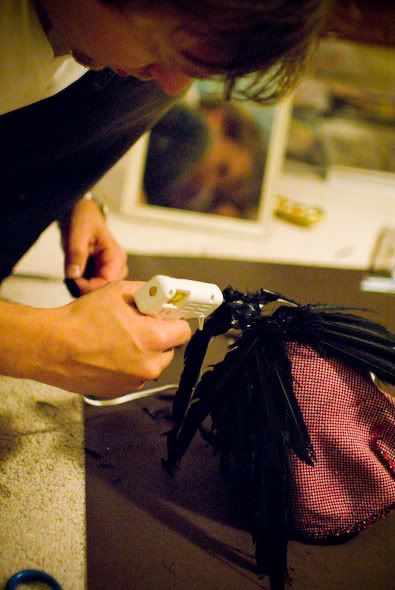 That's my man!!! I love you babe!
Here's one Photo Recipe for Jack O'Laterns at night.
I turned off all the lights and lit the pumpkins so I could capture their glow.
ISO was 800 (setting it high so I don't need my flash), my Aperture was 1.6, my Shutter Speed was 1/125. Suggestions: Set your ISO to 800 and your camera to Aperture Priority Mode. Go as low as you can in your Fstop/Aperture and let the camera choose your Shutter Speed (this will happen automatically b/c your in Aperture Priority Mode (A or AV)).
I decided to show you this shot instead of the others b/c I think a lot of people take Jack O'Latern pictures and get this horrible glare back from the pumpkin's light. The top pumpkin is a good example of this. But see how the one below has a nice warm glow with no glare shining back? The reason being is that if you take a picture of a lit pumpkin straight on or close to it, the light will be to harsh. But if you step off to the side of the pumpkin, the pumpkin's light is shining out and not right at you. Does that make sense? Think of it this way, if you point your camera right at the sun and take a picture, to much light and lots of glare comes back. Try this Photo Recipe tonight and see if you can get your pumpkin shots to glow like the lower one instead of the top one.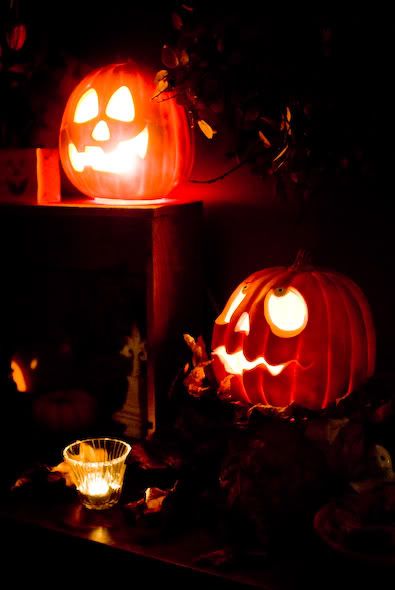 And Tip #2 for Halloween Photos: Dress up your kids early in the day and take your pictures. If you wait till tonight when it's dark outside, you'll be forced to fire your flash. And then the kids will look like they are walking out of a black cave with super pale skin. 🙂 Know what I mean?
So get em dressed early like we did, and go for it!
Happy Halloween from the Justice League family!
Don't forget, the Atlanta Workshop Registration OPENS on Monday at 6am PST!!!!! Yeah!!!
________________________________________________________________________________________________
To learn about aperture, shutter speed and ISO, check out our popular Instructional DVDs Refuse to Say Cheese (see the downloadable version that is now available if you live outside the US!), our 101 Kits for starting or expanding a business in photography, click on the words of your choice! To read a great review done on our DVDs, click here!
Save