Give a BIG, BIG congrats to the winner of the Most Inspirational Object Contest! The winner with the most votes is Finalist #5, "No Place Like Home" by Yvonne!!!!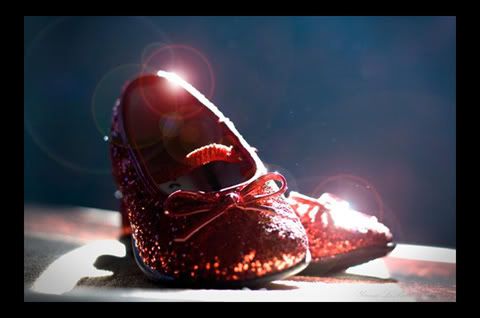 Yvonne, you did an AMAZING job with this shot! And as you can see, a ton of people agree! (If you haven't seen Yvonne's awesome blog, check it out!)
When Yvonne found out she was one of the Five Finalists she wrote me this great email that talked about shooting the red shoes. Your going to love the set up she describes!
Omg Me Ra!! I can't believe I made it to the five finalists!! Thank you so much, I really owe it all to you because I have watched the Refuse To Say Cheese and Beyond the Green Box dvds so many times!! I don't know if I should of included a story with the picture because I figured the image should speak for itself and I was hoping it would mean something special to who ever views it. But the set up is a different story – it was seriously by chance that I captured this shot!! I was watching early morning cartoons with the kids one morning and as the morning light fell through the blinds it created a magical feeling in the room. My two little ones kept asking where the sparkles were coming from and when I finally figured it out it was the sliver of light falling on the ruby slippers!! At first I didn't think to try and photograph it because it was unfavorable circumstances (besides me being tired in the wee morning hours). As the time past and the light changed I felt awful passing up the chance to practice so I gave it a shot. I took lots of pictures of the original clutter of the house trying to capture the magic of the moment but they were just discarded shoes on the floor and I couldn't get the sparkles that filled the walls. I repositioned the shoes on my ottoman and placed it in direct line of the light… unfortunately I couldn't get the sparkles on the wall but I noticed the dust in the air was just as pretty and so I had the kids jump on the couch to stir things up!!…
Yvonne, thanks for sharing that great story!! I'm so glad you loved the DVDs! And the story behind your shot is awesome, especially getting the kids involved! I had to share it with everyone here!
I hope you were blessed by all the wonderful comments people made! If you ever needed a few hundred people to confirm your awesome eye for photography, you've got it now sister! Now it's time to claim your prize! Let us know which 101 Kit would be most helpful to take your budding business to the next level! 🙂 It sounds like you've got the DVDS, if you have a friend you'd like to bless with the DVDS let us know and we'll forward the downloads to them in your honor!
AND my dear, which do you prefer? Your own Adobe Lightroom software to speed up your post process (fasten your seatbelt b/c Lightroom is AWESOME) OR the most unique prize ever, a copy of the newly released DVD "See the Light" by Carlos Baez! Watch the trailer by clicking the title. Carlos is not only a dear friend, but he is also a PHENOMENAL photographer who has years experience in the fashion and wedding industry and is now sharing his knowledge on lighting with the wedding and portrait world. This guy is loaded with tips and strategies on lighting. We just got our own copy of his DVD, and I can't wait to watch it. Carlos is a master with lighting, and on top of that he has a HUGE heart for teaching people. Just watching him work with his clients is amazing. Your business can't help but go to the next level with this new DVD. Check out his blog! To purchase Carlos's new DVD, check out the Photography Mentor store. Retail Price for "See the Light" is $175.
Pick your favorite prize, and then email my right hand woman, Genie, at genie@merakoh.com. And we will get your prize to you right away!
To all our VOTERS, A HUGE thank you and WOO-HOOOOO!!!!! We had 583 VOTES!! We blew our goal of 500 goal RIGHT OUT OF THE WATER!!! And again, you were all so awesome to give your two cents on why you liked your favorite image. Talk about an AWESOME community! Thanks for spreading the word! You have no idea how much your votes and comments blessed the Five Finalists!
Since we hit our goal of having 500 or more votes, one of our voters gets a free copy of Lightroom!!
The BIG, WINNING RANDOM VOTER who won Lightroom is….(drum roll!) J. T. who wrote;
I vote #3,
the story is amazing, and the pic is to.
J.T., you didn't hyperlink your name or leave an email so I'm hoping you check back in to see that you've won a copy of Lightroom! Email us at genie@merakoh.com!
But we also want to give two more Random Voters a $25 Gift Certificate to Starbucks!!!
The FIRST RANDOM VOTER one is crazy to me because I think I know her from twenty years ago. Merri Van Houte! Merri, are you "Merri Van Houte" from high school youth group!! Merri, this is crazy to see your name here! How the heck are you!! I didn't even know you followed the blog until I found out you were one of the Random Voter Awards! How crazy is that! Maybe I can buy you a Starbucks in person, and we can catch up! Email Genie at genie@merakoh.com, and we'll ship you your gift card!
on 11 Jan 2009 at 1:36 pm

edit this

Merri Van Houte
My vote is for #5. I think the photograph is enchanting, without even reading the meaning behind the photo, it inspires a smile.
The SECOND RANDOM VOTER is Lisa who wrote;
#4
I have to tell you it was very difficult to choose. I was struggling with what am I basing my decision on – the image or the emotion. If it was the image I would have selected 3, because i just love it. But since the topic was emotion I decided to go with the image that stirred the most emotion in me, #4. They were all great, congrats ladies for making it to the finals.
A big congrats Lisa!! Check out Lisa's website while your at it! And Lisa, email Genie at genie@merakoh.com to claim your gift card!
Remember, you still have time to enter your photo for the Simple Gifts photo contest! Look to the top right margin for the active countdown to submit! The rest of the details are as follows!
FAQ #1: Is there a Photo Contest happening right now? And when is the Deadline?
Answer: Yes! We picked the theme Simple Gifts Theme right before the holidays. You must send an image that in some way conveys the theme Simple Gifts. The deadline was January 4th, but since I forgot about the contest during my "unplugged" time off, we should extend the deadline. Don't you think?
Let's make the Deadline for Simple Gifts, Sunday, January 25th 2009 PST . Send your images as an attached JPG (small in size) to contest@merakoh.com . Prizes will be as good as what you read below!
_________________________________________________________________________________________________________
To get your own copies of the DVDs that Yvonne, the Winning Finalist, mentioned click here!!!! To see what 101 Kits Yvonne has to choose from, click 101!!